Quality delivered for the toughest applications
This is guaranteed by our very distinctive internal quality management. In addition, our products undergo external quality assurance measures.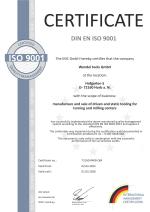 Of what use are the best of machines, if the tool cannot match up to their standards? In order to avoid an extremely difficult situation, we stand out clearly with the strength of our products because our products are hardened. That too, completely: Not only the functional surfaces, but all surfaces can resist wear. High - quality, robust tools - guaranteeing long tool life and precise production.